In 2008 I received a grand to do research on the use of video in my practice. There has always been a conceptual side to my work and I had the idea that the use of video would make my ideas clearer. I started to perform actions in front of a camera, edited short shots that I took for a videodiary into a longer whole and after doing another action I thought I might try to perform live: the things I did were easily reproduced and it seemed more natural. For the "Voorbij het Cadavre Exquis"– show by EX-MÊKH I prepared a large bowl of whipped cream and I took the essay Apunto! That I wrote for Apunto-gallery in Amsterdam where I exhibitited in 1988. During the opening of the exhibition I sat down in front of my painting "Mont Ventoux" which I made of torn and colored pieces of paper and I plunged my head in the large bowl of cream. Eyes, mouth, nose and ears were full of cream and I started to try and read the essay aloud. Everytime I thought people could distiguish words again I would plunge into the bowl anew and I continued doing this just as long as it took me to read the whole essay. Then I took a bow and disappeared.
This was the first of a number of actions I have performed during exhibitions and on the Malieveld during our project on saturdaymorning. I had to overcome something, but I like to have an audience and I think my ideas come across. I have the idea that the live-performing works better than my video's, though some video's do work well, mostly when I'm not in them.
Tssss K-Bam!
For the Weekend of Performances which A-Trans in Berlin was so nice to organize right after MÊKH-web live I worked together with percussionist Yorgos Dimitriades. My idea was to write down the sounds that Yorgos made in an improvisation. Because the space in the Haus der Statistik had a large window looking out over the street ànd because the performances would take place during sunset I decided to write on the window with chalk-markers. In this way the public could see from the inside and from the outside in a natural theatrical setting.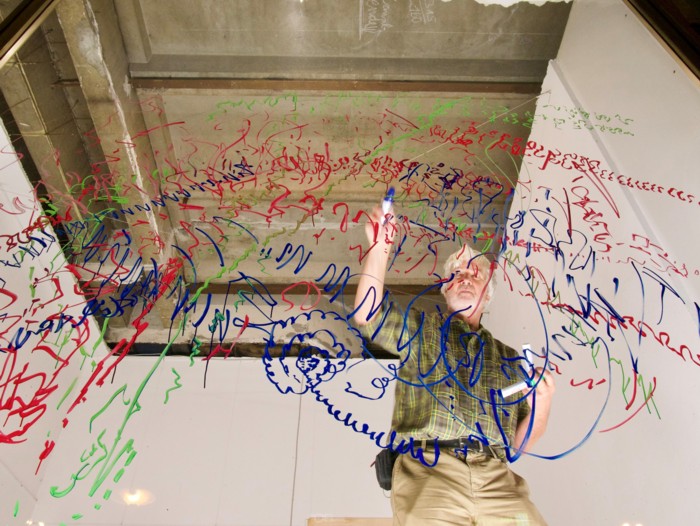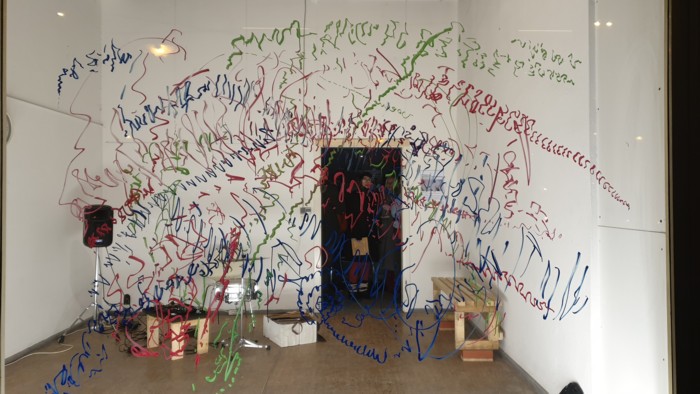 The Diaries, September 16 – October 6, 2019
For the EX-MÊKH exhibition MÊKH-web I decided to write a diary on the wall. Each day in that period would have a remark about something that happened, that I saw or that I read on that day. I decided to do that with wool and push buddies which I used earlier. Also, during the opening hours I would write the texts with the public present.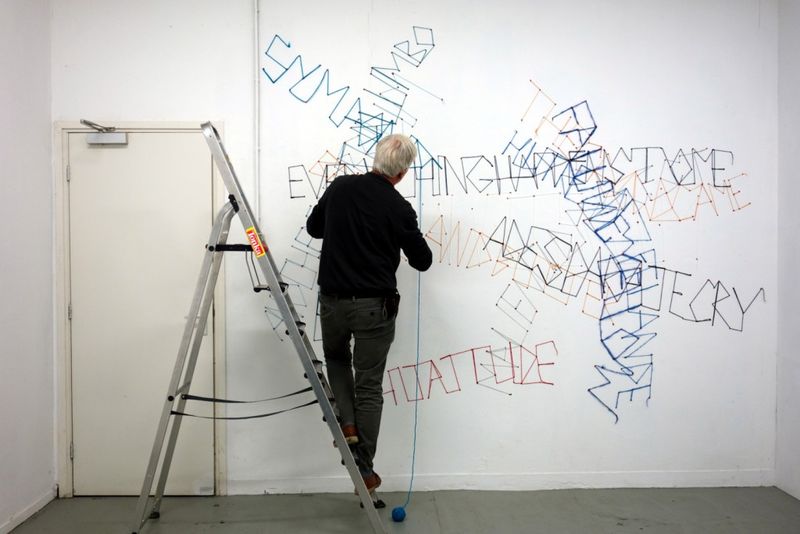 Above one can see the development of the text during the exhibition
Donna me prega
P.S.: Don't miss this, it is live!
Performancefestival P.S. at Hoogtij, The Hague Youth Factory, Den Haag-
March 10, 2017
Retraite
P.S. at Ruimtevaart
Stichting Ruimtevaart, Den Haag – January 22, 2017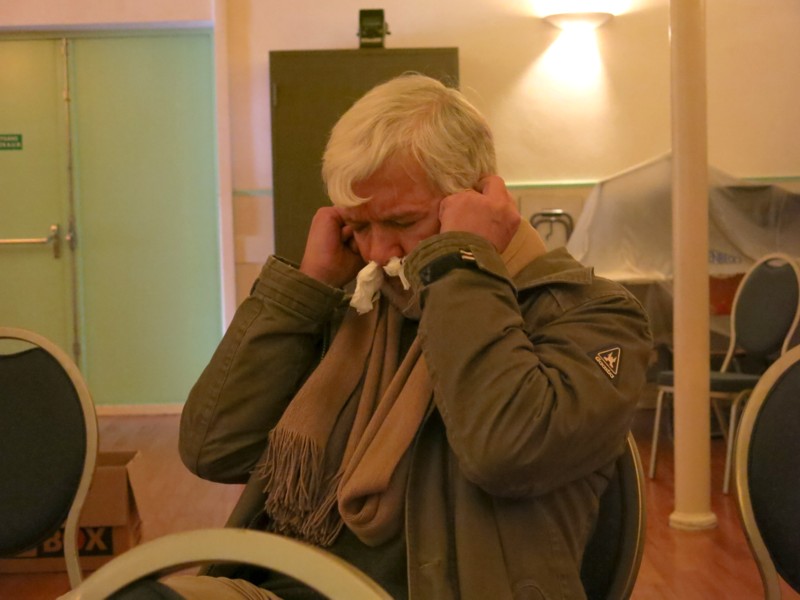 Plane to perform (for Merce Cunningham)
Malieveld April 2, 2016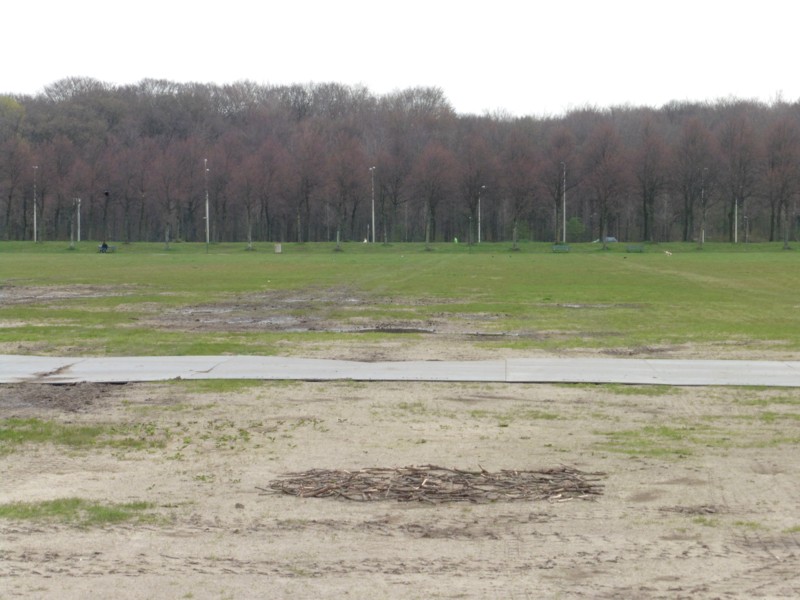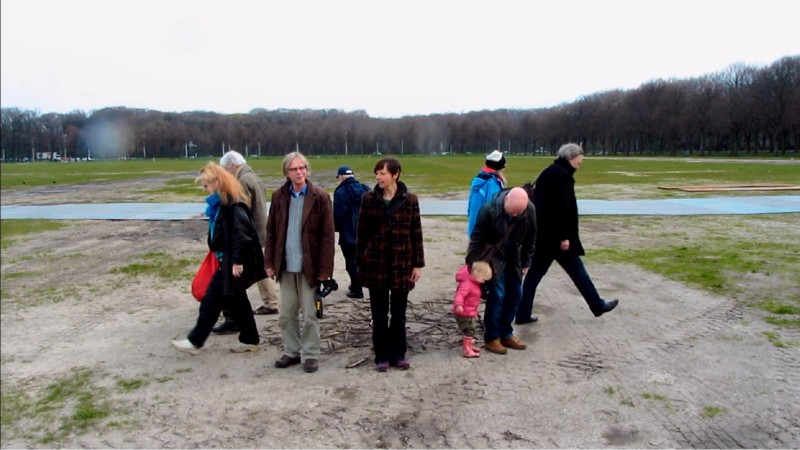 Darf ich auf Ihren Gedanken mit fahren?
Augentausch (during finissage)
A-Trans Art platform, Berlin (D) – Oktober 31, 2015
During the finissage of "Augentausch" in Berlin I did a performance in which I hitchhiked among the visitors. When asked what I wanted I asked them if I could take a ride on their thoughts about the exhibition. If they agreed I would take their hand and walked through the exhibition, talking about the works. Thus I confirmed the Alliance between me and the audience, parallel to the Alliance Helmut Kohl and Francois Miterrand showed an Verdun. The hitchhiking alludes to the way I travelled through Germany a lot in the seventies and eighties. The paintings "Augsburg" and "Aquaplaning" are taken from diary-entrances handling about those travels.
Unnoticed Retreat
Presentation Catalogue Unnoticed Art Festival
Performance in a city-bus in Dordrecht, January 1, 2015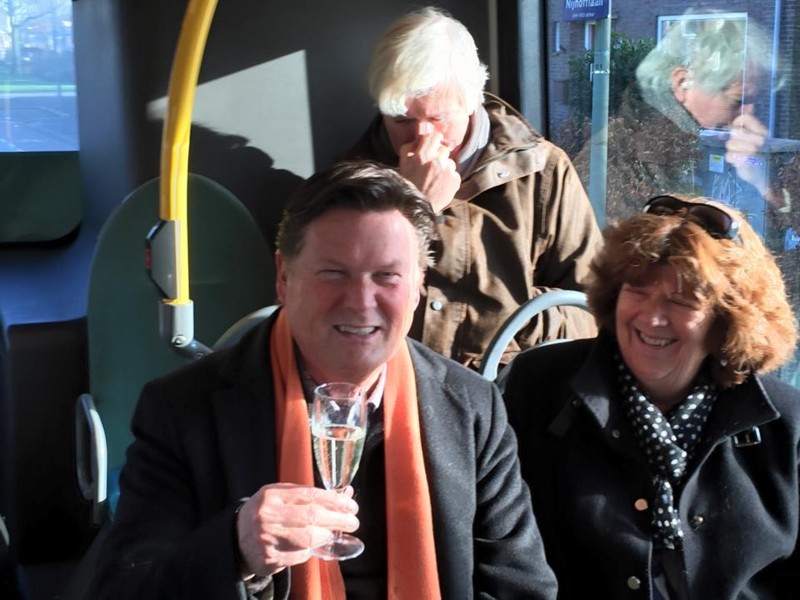 Attitude
The Unnoticed Art Festival
Final Presentation, Pictura Dordrecht – August 31, 2014
Mirror Man
The Second Explodes
Kunsthalle Autocentre Lana , Lana (IT) – May 2nd, 2014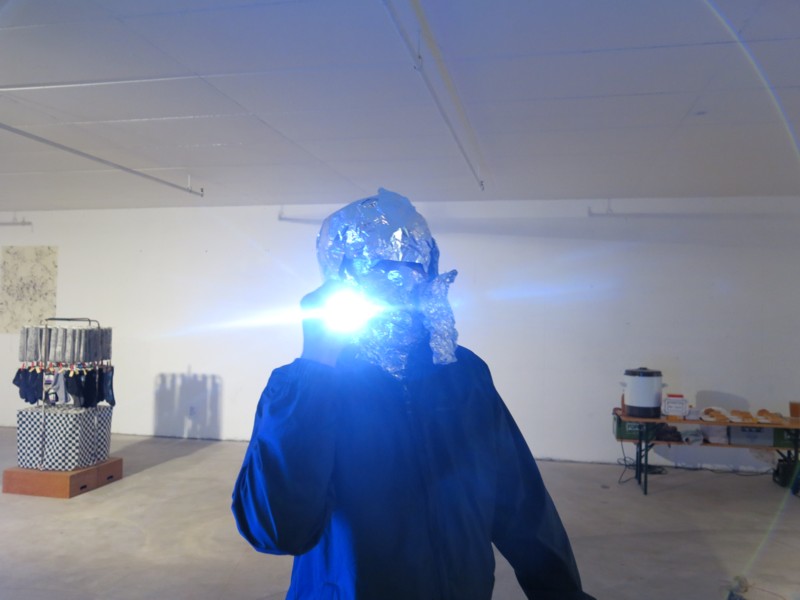 The Diaries, January 26th 2014 – a selfportrait
Fuck Focus
EX-MÊKH @ Buro Rotterdam, Rotterdam – January 26th 2014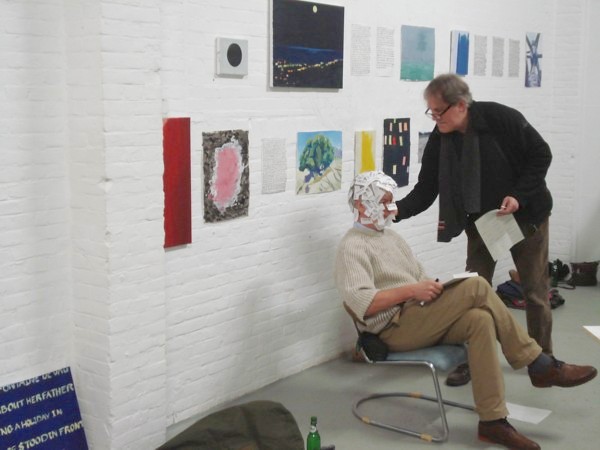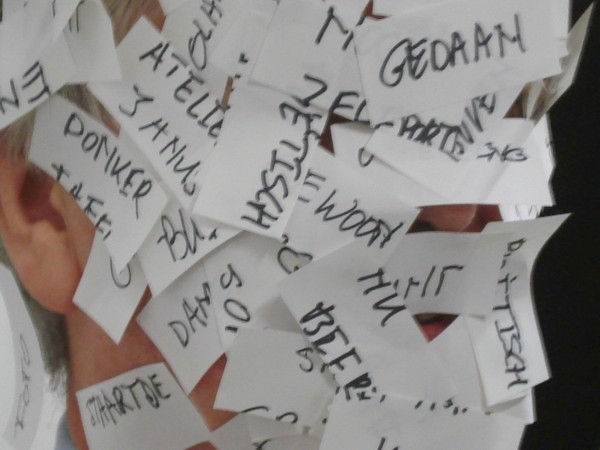 Venice Laguna
The Diaries, August 19, 2010
Malieveld Den Haag, September 21th, 2013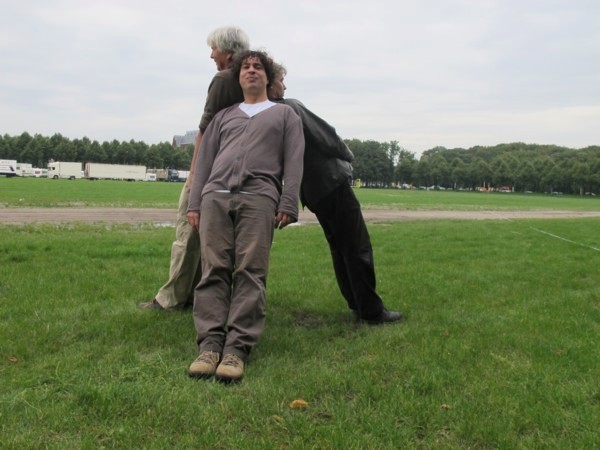 Structural Analysis (looking for Focus)
Malieveld Den Haag, September 7th 2013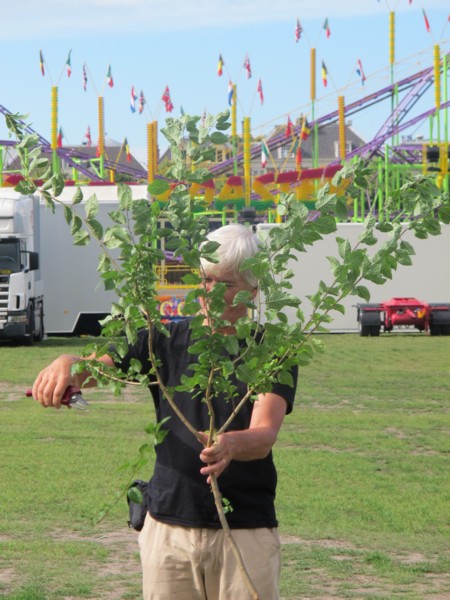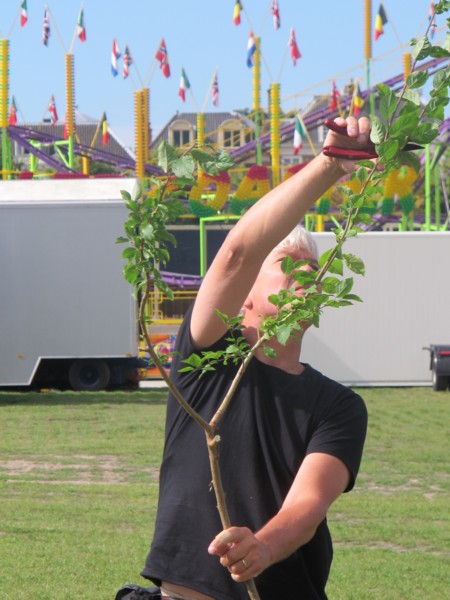 Attitude
Malieveld, Den Haag – June 22nd, 2013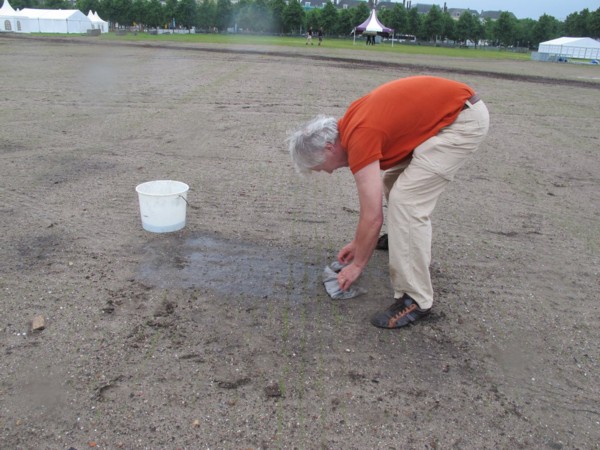 Zero the Hero
Henk=0
Malieveld @ Pier Scheveningen – April 20th 2013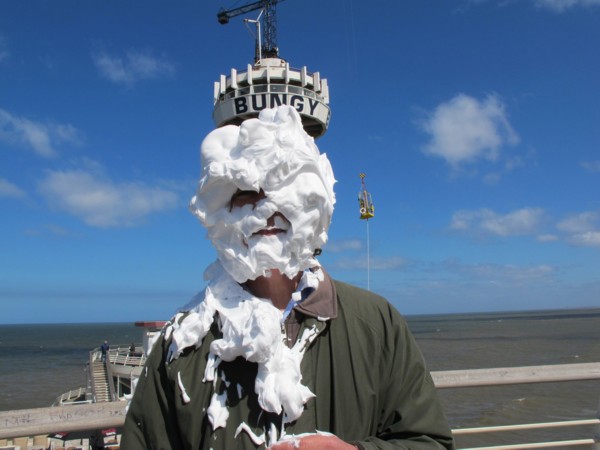 The Lying Poet – 2012
EX-MÊKH: Cadavre Exquis
Quartair, Den Haag May 19th 2012 – opening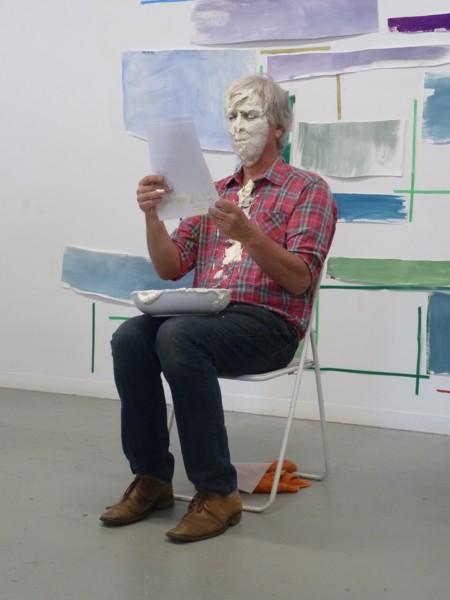 During the opening of the EX-MÊKH exhibition "Voorbij het cadavre exquis" I executed my first performance called "The Lying poet". I started by sitting down with a bowl of whipped cream on my lap and I took a piece of tekst named "Apunto", which I wrote for my first exhibition in Amsterdam at Apunto Gallery.
First I put my face in the cream, so that all the holes in my head would fill themselves with cream. Then I started to read the tekst to the audience which of course resulted in a lot of bubbles. Whenever the public started to understand what I read I took another dip into the cream, untill the text, about 1500 words, was finished. It handles about the difficult tension there is between an artist's life and the bourgois life: it makes it hard to speak out as an artist sometimes.